At a glance
Leading real estate group
Aldar is the leading real estate developer and manager in Abu Dhabi, supported by an owned, strategic land bank of approximately 65 million square metres across prime areas of the Emirate.
Download pdf
Saadiyat island
Mamsha Al Saaiyat
Jawaher
Saadiyat Reserve
Saadiyat Grove
Cranleigh Abu Dhabi
Saadiyat Beach Club
Saadiyat Beach Golf Club
Saadiyat retail
yas island
West Yas
Mayan
Yas Acres
Water's Edge
Ansam
Lea
Noya
Yas Links
Yas W Hotel
Yas Mall
IKEA
ACE Hardware
Yas Plaza Hotels
Al raha beach
Al Muneera
Al Zeina
Al Bandar
Al Hadeel
Al Raha Beach Community Retail
HQ Building
Etihad Plaza
Al reem island
Meera
The Bridges
Reflection
Sun & Sky Towers
Shams BOUTIK
The Gate Towers and The Arc
Boutik Gate
Reem Central Park
Al Ain
Al Ain
سيح السدرة، الغدير
Al Oyoun Village
Shabhat Plaza
Al Jimi Mall
Remal Mall
Key
Aldar Development
Aldar Investment
sustainable
long-term growth
I am delighted to report that your company has had a strong year of progress despite the significant challenges of the Covid-19 pandemic.
The resilience of the Abu Dhabi economy and real estate market have underpinned Aldar's achievements. We have experienced progressive political, economic, and legislative policy changes intended to make the Emirate a top global destination for quality of living, business opportunity and tourism appeal.
Chairman of Aldar Properties
download pdf
business model
creating sustainable, long-term value
Aldar plays a pivotal role in the growth, maturity and diversification of Abu Dhabi. We aim to be a sustainable business by anticipating and responding to the needs of our customers, communities, partners and employees. Using our knowledge, we're able to act to position ourselves for the market conditions we see ahead to enable our vision of long-term value creation.
Dowload pdf
Input
Line
FINANCIAL
We invest in our business through shareholder capital, borrowings and existing capital.
PHYSICAL
Our land and buildings, the materials and technologies we use, and the natural environment.
SOCIAL AND RELATIONSHIP
The relationships we have with customers, communities, government and partners, and the capabilities of our employees.
Core activities
Line
SECURE LAND
Land bank and land purchase
ACTIVATE LAND
Building infrastructure
ACQUIRE, MANAGE AND RECYCLE DIVERSE ASSET BASE
Real estate and complementary businesses
MONETISE LAND
Sell land or develop residential properties for sale
DEVELOPMENT MANAGEMENT FOR 3RD PARTY
Including Asset Management
STRATEGY SITS AT THE HEART OF OUR BUSINESS
Line
FINANCIAL HORIZON
GROWTH AND EXPANSION
CUSTOMER CENTRICITY
OPERATIONAL EXCELLENCE
PEOPLE, INNOVATION, SUSTAINABILITY, AND DIGITAL TRANSFORMATION
Output
Line
FINANCIAL
Long-term growth in income and asset values, creating capacity for us to reinvest in our business and deliver on our promise to our shareholders.
PHYSICAL
Delivering desirable destinations for people who live, work and play.
SOCIAL AND RELATIONSHIP
Our ability to help businesses and people to thrive – including our own employees.
POWERFUL PERFORMANCE
Chief Executive Officer's Statement
Aldar Properties delivered a powerful operating and financial performance in 2020, drawing on its fundamental institutional strengths to successfully navigate through the most difficult challenges that the company has ever faced.
The Company's strong progress has been founded on the bedrock provided by Abu Dhabi's effective response to the global pandemic. The Government has acted decisively to protect the health and safety of residents and to support the economy, including measures to sustain confidence in the real estate market. Recovery is now within sight thanks to the effective testing regime as well as a rapid and comprehensive vaccination programme.
Group Chief Executive Officer of Aldar Properties
Strategy
SUSTAINABLE RETURNS THROUGH SOUND INVESTMENTS AND INNOVATIVE STRATEGIES
Our vision demonstrates what we aim to achieve, while our Mission defines our DNA and what we stand for. These form the cornerstone of our strategic intent and commitment to stakeholders.
2020 financial highlights
Despite a challenging operating environment, the Group recorded a 17% increase in revenue to AED 8.39 billion. Gross profit rose 8% to AED 2.98 billion and net profit held steady at AED 1.93 billion.
Download pdf
finance & sustainability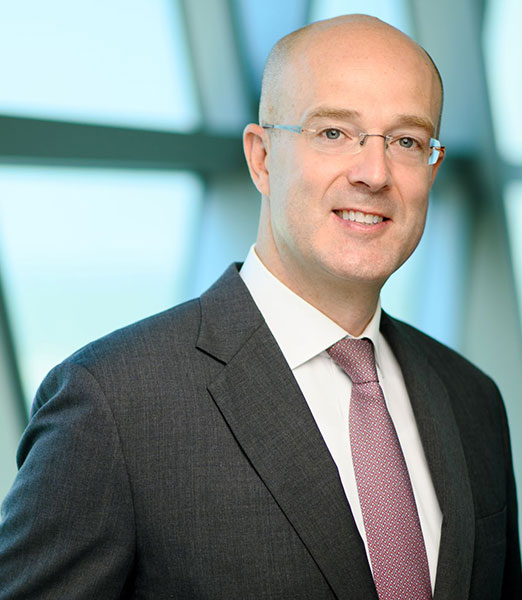 greg fewer
chief financial &
Sustainability Officer
In a transformational year for Aldar Properties, the Company delivered a robust financial performance, made significant progress on sustainability and put in place the building blocks for the next phase of accelerated growth.
Revenue
AED 8.4bn
+17% (2019: AED 7.1 BILLION)
Net Profit
AED 1.9bn
+0.4% (2019: AED 1.9 BILLION
Gross Profit
AED 3.0bn
+8% (2019: AED 2.8 BILLION)
Dividend per share
14.5 fils
(2019: 14.5 FILS)
Sustainability
Despite the challenging year influenced by the pandemic and its impacts on different businesses and processes; we have significantly improved our ESG score on different regional and international ratings and Aldar was ranked on the top of all listed real estate companies in the UAE and the third among all listed companies in Abu Dhabi Securities Exchange, as of end of 2020. We have also improved our ESG score well above the industry average for both Dow Jones Sustainability Index and MSCI.
Programme
Aimed at supporting residential communities, schools, retail partners and home buyers
Initiatives
National sanitization efforts and waiving administrative fees
Contributed
For laptops for schools and universities students for distance learning
Retail partners
To support retail partners with a focus on supporting SMEs and start-ups
Sustainability
highlights from 2020
operational highlights
Aldar's performance in 2020 and the Company's growth trajectory are remarkable given a challenging macro-economic environment of the last year.
They are testament to the strength of our diversified business model, driven by our strong commitment to high standards of corporate governance, the robust and clearly defined strategies of our core businesses, and the hard work and fortitude of our employees.
First quarter
January
Aldar reaffirms commitment to Sustainability in 2020 with the launch of inaugural Sustainability Report in 2019
Aldar announces finalists for its Manassah entrepreneurship competition designed to support the UAE's most ambitious retail and F&B entrepreneurs
February
Aldar partners with Abu Dhabi Finance and Abu Dhabi Islamic Bank for a limited time, exclusive home finance offer with rates starting from 2.99% and no fees applicable
Aldar announces 7% net profit rise to AED 1.98 billion in 2019
Aldar issues dividend of 14.5 fils to shareholders
March
Aldar holds AGM via video conference
Aldar announces programmes totalling AED 100 million aimed at supporting residential communities, schools, retail partners, and home buyers
Aldar invests AED 2 million in Abu Dhabi's first social impact bond by The Authority of Social Contribution - Ma'an
Second quarter
April
Aldar partners with ADCB, ADIB, and FAB to offer home finance offers for Aldar customers
Aldar invests in 'ATMAH' programme to increase employment opportunities for People of Determination in Abu Dhabi
Aldar partnered with Sandooq Al Watan contributing AED 5 million, to provide 10,000 laptops in support of the distance learning initiative
Aldar employees contributed AED 1 million to the 'Together We Are Good' programme launched by The Authority of Social Contribution – Ma'an
May
Aldar announces Q1 2020 Financial Results / Aldar reports revenue of AED 1.76 billion in Q1 2020
Aldar announces cumulative programmes worth up to AED 190 million aimed at supporting residential communities, schools, retail partners, and home buyers
Third quarter
August
Aldar issues second sustainability report and launches new key sustainability commitments
Aldar records 21% revenue growth to AED 2.01 billion in Q2 2020
September
Aldar unveils 'Darna' digital loyalty programme
Aldar launches a new building sale at Water's Edge on Yas Island following solid demand
Fourth quarter
October
ADQ and Aldar sign MOU to develop and manage government capital projects with a total value of approximately AED 40 billion
November
Successful launch of Aldar's Noya on Yas Island which sold out on first day
Aldar records 30% revenue growth to AED 2.1 billion in Q3 2020
December
Aldar Properties sells Abu Dhabi Golf Complex including the Westin Hotel for AED 180 million
Aldar signs agreement with Tabreed to sell Abu Dhabi district cooling assets for AED 963 million